Sports News
North West Leicestershire Sports Awards
Three of last year's sports councillors attended the North West Leicestershire Sports Awards last night at the Hermitage Leisure Centre. Jenson, Sofia and Skye were there to collect our Silver School Games Mark in recognition of the school's efforts in promoting and participating in competitive sport over the course of the last year. They should be very proud of all they achieved and fingers crossed for a gold award next year.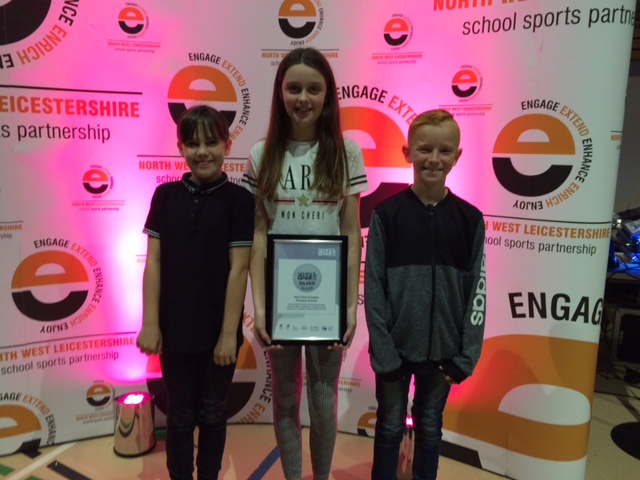 Saffron Lane Athletics Competition
We had our most successful competition for a number of years at the North West Leicestershire Athletics competition. We took 35 children from Years 4/5/6, who took part in a number of track and field events. Five children made it through to their sprint finals and two of the relay teams also progressed. We came away with a total of four medals. Caiden and Harley both won their Y4 sprints and Amber in Year 6 also won gold. Cole in Year 5 did extremely well in the 600m and came away with a Silver medal. All children should be proud of their performances and a huge well done to those who took part. A big thank you to the parents and carers that came along to support their children.
Y5/6 GoRide Cycling
Twelve children from Y5/6 represented the school at the GoRide Cycling event. We had two teams attend the qualifying event, before selecting the stronger riders for the final a week later. The event consisted of an Italian Pursuit and a team relay. The children all had a fantastic time, even though they found it a lot harder than they thought it would be. In the final event, we finished 4th overall.
Y3/4 Quicksticks Hockey
We enjoyed a very successful Y3/4 Hockey festival at King Edward School. We took two teams who both performed well. One of our teams won every game in their pool stage and qualified for the knockout stages. They then went on to win their quarter final and semi-final. In the final, against Whitwick St John, it was 0-0 after the allotted time and the game went to Golden Goal Extra Time. The children were very unlucky to eventually be defeated by a penalty goal. Everyone should be incredibly proud of how well they did, and the effort they put in.
Y5/6 Quicksticks Hockey
We took two teams to the Y5/6 Hockey tournament at King Edward School. It was a very cold, damp and misty day but this didn't stop the children having a good time. Both teams played well, working together and supporting each other brilliantly. Although neither team progressed to the knockout phases, they should all be very proud of their performances. Well done to all those who took part.
Y5/6 Orienteering
Our Y5/6 Cross-Country runners were rewarded for their efforts so far this year by being entered into the NWLSSP Orienteering competition held at Donnisthorpe Woodlands. We took 20 children who, after receiving a basic map reading lesson, had to try and find as many checkpoints as possible within 30min. Their hard work in Cross Country obviously paid off as we had two pairs finish in the top 4. This was out of a total of over 300 pairs and is a magnificent acheivement. Our top 4 pairs contributed to the team result and in this we ended up finishing 2nd out of 28 schools. Huge congratulations to all those who took part and especially those top 4 pairs.
Y5/6 Swimming Gala
We took a team of 16 children to the NWLSSP Swimming Gala at Kind Ed. The children took part in both individual and relay races using a variety of strokes. We had a number of heat winners and runners-up and all the children performed superbly. Overall we finished a very creditable 13th out of 28 schools who entered. Well done to ll those children who took part.
Multi-Sports Festival
Ten children from Years 1-4 spent a morning at Forest Way School, where they took part in a Multi Sports Festival. These festivals provide opportunities for children to mix with other schools while taking part in a series of fun events and activities. Riley in Year 4 said the best part was having fun, especially the Kurling. Leon in Year 3 enjoyed playing some Volleyball. All children represented the school well and had a great time developing their skills. Well done to all those who took part.
Y5/6 Table Tennis
8 children from Year 5 and 6 went to Newbridge to participate in a table tennis competition. Although no one made it to the second round they all enjoyed playing their games and did very well. Darcie said ' I tried my best and enjoyed playing with my friends.'
Before half term, our Year 3/4 Tag Rugby team entered the NWLSSP competition held at Broom Leys School. The team performed brilliantly, reaching the quarter finals. They worked really well together and demonstrated good teamwork, respect, and fair play. This resulted in them winning the Spirit of the Games award. Well done to all those children involved.
Our Y5/6 footballers have played a number of games in the Collaborative Cup. Over the five matches, we have seen their skills gradually improve and this resulted in their first victory against Swannington. All the players should be very proud of their performances and determination to keep improving.