Music
Here at New Swannington we are really proud of the musical opportunities that we offer our children. In recognition of the high standard of music provision given, we were awarded the Music Mark Gold Award status in 2018, something that only a handful of Leicestershire schools are awarded. From when they enter in EYFS to the time they leave in year 6, every child will have the experience of listening, improvising, singing, composing and performing in a wide range of ensemble opportunities.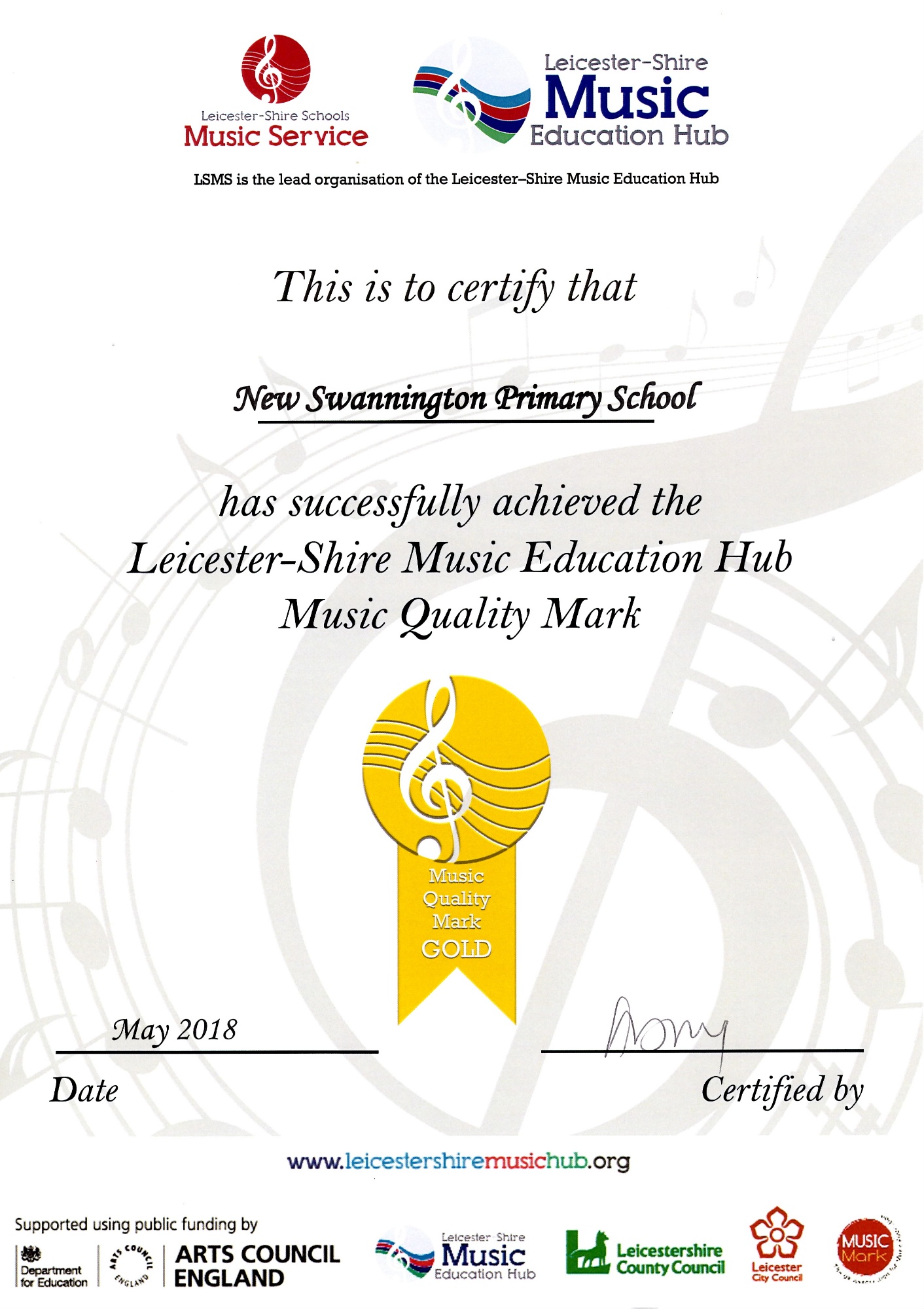 Our curriculum
Key Stage 1 is all about musical experimentation, listening skills and enjoyment of group music making. By the time they reach Key Stage 2 our children are ready to show greater control in their listening and performing. They have a wide musical vocabulary to appraise the music they hear and to suggest improvements to their own music making.
Year 3 children learn how to play the recorder and take part in Vocal-Ease – a singing concert with other local schools. Year 4 children learn to play brass instruments, Year 5 learn the ukulele and finally the Year 6 children pool all of their musical skills together using a range of instruments, including any they learn at home.
Additional opportunities
Every week, we have a visiting woodwind teacher, who provides individual lessons. Our Year 4 visiting brass teacher also offers small group lessons for those wishing to continue beyond Year 4. Our Key Stage 2 choir always has a high take up and as well as singing in local community events, the choir take part in the Young Voices concert at the Resorts World Arena every year.
Everyone in the school has the opportunity to sing at celebration times throughout the year such as Harvest and Christmas. In the Spring term we offer our Spring Soiree concert, where children in the choir and our other music groups perform alongside solo instrumentalists and singers. This is a great evening, allowing the children the chance to show their own style and musical talents. Throughout the year, our two music specialist staff members offer targeted groups to offer experiences to children who may not otherwise take up music opportunities. These groups are driven by the children's interests and incorporate skills such as music technology and percussion. The children attending these then go on to be Music Ambassadors for these specialisms to help others in whole class work.
By providing such a wealth of musical opportunity, we hope to equip our pupils with skills of creativity, team work and a lifelong love of music.